Synopsis
[Boys Over Flowers]
Jan Di is an average girl whose family owns a dry cleaning store located near the luxurious and well known Shin Hwa College. Jan Di meets the four richest and most spoiled boys known as the F4. After saving a boy from jumping off the roof of Shinhwa High School, she is admitted into the school on a swimming scholarship. Jan Di tries to avoid confrontation with the F4 at all cost because she knows what happens to those that stand against them. However, when Jan Di's friend, Oh Min Ji, accidentally gets ice cream on the leader of the F4's shoes, she's forced to declare war on the leader of the F4, Goo Joon Pyo. What will happen though, when she falls in love with someone from the F4 and Goo Joon Pyo start feeling something for her too? Will the love triangle disrupt F4 and change their lives forever?
Koo Hye Sun
as Geum Jan Di
F4:
Lee Min Ho as Goo Joon Pyo

Kim Hyun Joong as Yoon Ji Hoo

Kim Bum as So Yi Jung

Kim Joon as Song Woo Bin

BOF-Ost 1
or
BOF-Ost 2
++
I Dont Know Anything But Love-Geum_Jan_Di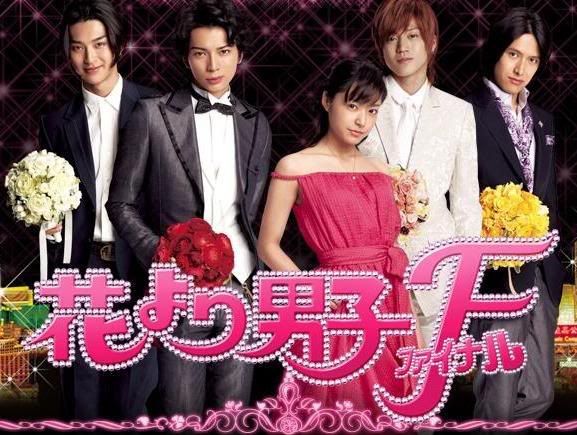 Synopsis
[Hana Yori Dango]
Makino Tsukushi is the only poor student at Eitoku Gakuen, the school of the ridiculously rich and privileged that is ruled by Flower 4 or F4, a group of four boys who come from extremely powerful families: Domyoji Tsukasa, the leader and heir of the Domyoji World Finance Group; Hanazawa Rui, the introverted son of a large company; Nishikado Sojiro, a player who is the heir of a tea ceremony school; and Mimasaka Akira, a madam killer with ties to the underground. If a student gets on the F4's bad side, he/she gets a red notice and is bullied and driven out of school.
Makino hopes to pass her days quietly-- without drawing any attention to herself-- but one day, she stands up to Domyoji in defense of her friend. The next day, Makino gets the dreaded red notice. Even though she is harassed, Makino decides to keep going to school because she is a "tough weed". She declares war right back on the F4. Her resolve gets the attention of her crush Hanazawa Rui and oddly enough, rouses romantic feelings in her worst enemy, Domyoji Tsukasa.
The series is based on the Japanese shoujo manga "Hana Yori Dango" (Boys Before Flowers) by Kamio Yoko.
Inoue Mao
as Makino Tsukushi
F4:
Matsumoto Jun
as Domyoji Tsukasa
Oguri Shun
as Hanazawa Rui
Matsuda Shota
as Nishikado Sojiro
Abe Tsuyoshi
as Mimasaka Akira
HYD-Ost 1
or
HYD-Ost 2
cdt:Dramawiki+KDrama Queen+Zyka